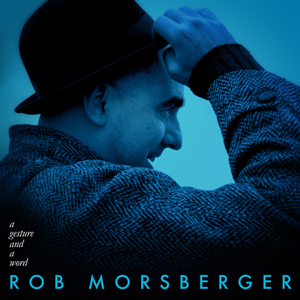 Track List
Mystic Redemption
Raindrops Keep Falling On My Head
Margot
Falling
The Hero Of Your Life
Count On You
Studio Lane
Blessed Unrest (feat Dave Douglas)
In this unexpected final album, the Master calms turbulant waters "with a  gesture and a word" (in the song "The Hero of Your Life").   There is a parallel narrative about David and Goliath.  As in "Everyone Wants To Be Loved" it is in part about slaying the monster and claiming your heroism. "Now we are crossing over, through weather, wind and strife, and darling you will be the hero of your life."
"Mystic Redemption", which opens the album, is about salvation and going to the movies.  It is a pilgrimage and a search for healing.
"Raindrops Keep Falling on my Head" is a dark reinvention of the Hal David/Burt Bacharach classic song.
"Margot" is a commissioned work on behalf of The American Cancer Society about a delightul six year old.
"Falling" and "Count on You" were originally recorded as part of the Early Works double album.  Falling was co-written with the late, great Gordon Gaines, who was my dearest friend and great inspiration before he passed away too soon.  Gordon was one of the finest rock guitarists of his generation.
"Studio Lane" was written for my surgeon Dr Guy McKhann and his family.  It is a small thank you for his tremendous care and skill.
"Blessed Unrest" is a duet with trumpeter/composer Dave Douglas.  It is an uncharacteristic jazz ballad that somehow seems to fit right in, and provide the perfect closer to this final collection of music.  It is, simply, about being in love in the spring time.
A Gesture And A Word is dedicated to my three heroes, Ben, Jesse and Elan.