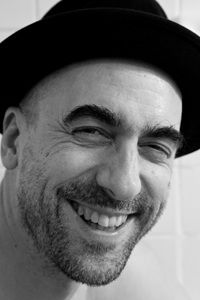 Rob Morsberger is known for his wonderfully twisted perspective, lyrics that are never dumbed down for the listener, and an ear for complex melody. His songs are characterized by their esoteric surprises and their unwavering intelligence. He has rightfully drawn comparisons to Tom Waits, Rufus Wainwright, Bob Dylan, Tom Petty, Robbie Robertson and Warren Zevon (mixed with a touch of Randy Newman's absurdist wit).
Morsberger is a singer-songwriter and classically-trained composer. His albums have been featured in national and regional press, including USA TODAY, via PRI/NPR, The New York Times, M Music & Musicians Magazine, and in numerous other outlets. Read some of the reviews, here.  Writing in The Boston Herald, rock critic Kevin Convey praised Morsberger for "the kind of hyperliterate, pop-inflected singer-songwriter outing that went out of style when Warren Zevon died. And…he can write a hook that could make angels weep."  As a sideman/arranger, Morsberger's credits include Patti Smith, the Grammy-winning Boardwalk Empire soundtrack album, My Morning Jacket, Crash Test Dummies, Marshall Crenshaw, Willie Nile, Jules Shear, Loudon Wainwright III, and more. Recent collaborations include albums with Suzzy and Lucy Wainwright Roche, Brad Roberts, and more.
A leading composer for PBS, his scoring credits include Masterpiece Theater, NOVA and Frontline. He was composer for the award-winning PBS series NOVAscienceNOW for its first five seasons.
Born in Ohio, Rob grew up in Oxford, England and studied composition at the University of Edinburgh. The Rob Morsberger catalog is managed by American International Artists.