These records are newly mastered,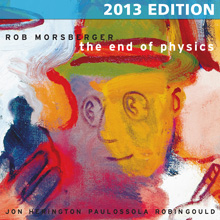 recorded, and mixed with all new vocals.  I am beyond thrilled to share these with you. These performances are now on a par with any others that you might have heard and enjoyed in recent months. All nine albums now share a remarkable consistency of tone and sound.
These albums are available as download only, for now.  We are working on a way to provide "upgrades" to those of you who have bought these records in the past.
As always, albums are beautifully mastered by
Dominick Maita at Airshow Mastering, who has mastered my entire catalogue so beautifully.
The albums feature all the original tracks, with the sole addition of David Mansfield on fiddle on the song "So Far Gone" from The End Of Physics.  Beautiful.
I am proud of this body of work and grateful to present to you these definitive and greatly enhanced versions. – Rob Morsberger